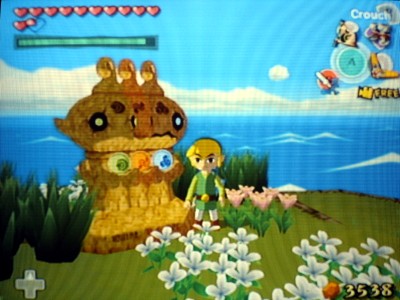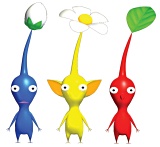 ever noticed the 3 statues of the godesses farore, nayru and din looked like pikmin?
for people who do not know pikmin: pikmin are small plant like animals. they sprout undergrounds and when they are grown the walk on the earth. they search for pellets(crystalized nectar) and dead monsters. the pikmin use this stuff to grow more pikmin!
however pikmin need a leader (that would be olimar, louie or the president)
the pikmin live on earth but they are so small we dont see them.
there are 5 different pikmin known:
-red: has a pointy nose, no mouth and no ears. red pikmin are immune to fire and slightly stronger then the others.
-blue: has a small mouth, no nose and no ears. blue pikmin are immune to water.
-yellow: has large ear like things, no nose and no mouth. yellow pikmin are immune to electricity and can be thrown higher then the others.
-white: has red glowing eyes. its small and immune to poison, it also contains a small amount of poison. the white pikmin are capable of running very fasy because they are small.
-purple: plumpy and heavy! it runs slow, however its 10 times as heavy and counts as 10 other pikmin when lifting stuff. they also are good fighters and when thrown they cause a small earthquake.
now you have an idea about pikmin you should recognize thet
- farore(left statue(im sorry the statues are close to eachother) with a green ball) has ears like yellow pikmin
- din (middle statue with a RED ball) has a nose like thing(its not clearly on this picture) just like red pikmin
- nayru (statue on the right) has a small mouth just like blue pikmin
isn't that strange?
Last edited by rick on Sat Jul 04, 2009 12:17 pm; edited 1 time in total
Nice post man u are a good poster

!
Do you got all your information by yourself

?
This post is very useful for Zelda-Players
_________________
My new sig!
Admin




Posts

: 187


Reputation

: 13


Join date

: 2009-07-02


Location

: At my Pc



yes i found it by myself, however i posted it on the pikminwiki before i did here(pikmin.wikia.com). the pictures were not mine, i did not have a camera capable of taking pictures from a tv screen, so i asked a friend from the pikmin wiki to make some pictures. the image from the 3 pikmin are also from the pikmin wiki
Is pikmin from the same makers?
_________________
Admin




Posts

: 188


Reputation

: 10


Join date

: 2009-07-02


Location

: TheNetherlands



not really from the same makers. but pikmin and zelda are both published by nintendo. please note that most games published by nintendo use hidden elements from other games.

if you think that evrysingle game for nintendo consoles is published by nintendo you are wrong. most of the sports games for the wii are not published by nintendo except for wii sports. some example of series published by nintendo:
- pikmin
- zelda
- mario
- final fantasy games that have apeared on nintendo consoles.
- smash brothers series(all stuff in this game is published by nintendo)
- metroid
- fire emblem series
- donkey kong
- earthbound
- advance and batallion wars.
- golden sun
- and alot and i mean ALOT more.

most people say that the best games aer published by nintendo. sonic games are also scoring good but sonic is published by SEGA
Ok thanks for explaining.
_________________
Admin




Posts

: 188


Reputation

: 10


Join date

: 2009-07-02


Location

: TheNetherlands



[BtG]Rob wrote:Ok thanks for explaining.
i Forgot to say something, sonic has been bought by nintendo a few years ago. this could be seen in the smash brothers series:
smash brothers mellee, the smash brother for the gamecube, hadn't a single trophy, picture or character in its data. Brawl(for the wii), however had alot of stickers and trophys about sonic. brawl also has sonic as a playable character.
as you can see: game companies deal alot with their copyrigths and games. don't let it bother you, the only difference is the console. the makers ussually still make new games even if it isn't for their own company.

---
Permissions in this forum:
You
cannot
reply to topics in this forum