first of all these glitches do not work in pokemon firered or leafgreen.
WARNING read the WARNING at the bottom of this post first!
after you've reached cinnabar island you can do some funny glitches.
first of all, get a strong pokemon in your first slot, and apokemon with surf in your party. you also need to talk to the man in viridian city who showed you how to catch pokemon(let him show you again).
1. put a cool item in the 6th slot of your bag you wana have many times like a rare candy or a masterball. no key items allowed!
1,5. save
2. jump of the right side of the island and surf up and down kissing the shore of the island.
3. after a while you''ll encounter a pokemon it will either be a missingNO. or a rare high lvld pokemon(100+) like Khangiskahn or chansey or rhydon.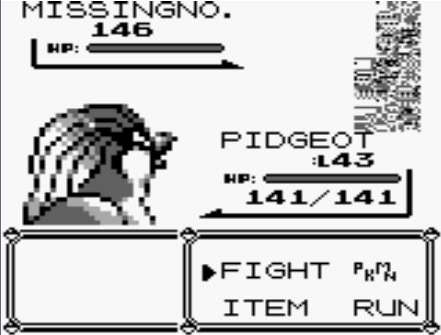 some missingno's. missingno is either called missingNO. or M followed b a bunch of random letters.
4. defeat it, catch it or run away(if you want 1 you could better run away while having a masterball in the 6th slot.)
5. the item on the 6th slot wil be duplicated to a random number... wait it isnot a number? it wil be duplicated to some strange symbols.
the lvl 100+ pokemon will level down if you train it normally to lvl 100. however you can give it rare candies to raise it level even further(funny in PvP battles)
if you catch a missingNO.(read the WARNING first) and train it it will evolve into a Khangiskahn wtf?
WARNING: some games freeze while catching a missingNO. these games are rare, only 20% of the games freeze. it may also delete your save file and destroy your game so you cannot save again. however running away is completley save and does no harm to your game and/or save file. i am not responsible for defect games. do not try to catch one is my tip. only if you do not care about your game.
Last edited by rick on Sat Jul 04, 2009 2:39 pm; edited 1 time in total
using pokemon that are over the lvl 100 are much stronger. a lvl 101 is probably 10 times stronger than a lvl 100 with the same stats, thats also a glitch. this makes it fun to use the overpowered glitched pokemon in PVP also do note that is wicked! people will trade anything for a lvl 101 rhydon or stronger
Haha ok that is kinda sick 10 times stronger.
_________________
Admin




Posts

: 188


Reputation

: 10


Join date

: 2009-07-02


Location

: TheNetherlands



i'm going to expand the tutorial with some pictures and or a video, but first i need to find pokemon red or blue and complete them if i started a new game on them

grrrr can't find either of them... well elts download a rom(much easier to film+frame skip)
[BtG]Lordjaro wrote:

If you need some information about Pokémon i think you need to ask [BtG]RedRawr then hes a kinda pokémon freak
naye i ment i couldnt find my games, i don't know anyone who knows more 'bout pokemon games then me. thta thanks to my brother. he played them hella lot. i also played pokemon alot.(we got every single pokemon game(and yellow and silver twice)) i just downloaded a blue and a red rom with save data. but the red rom was only for gameboy emulators that pic is black and white, sorry folks
[BtG]Quick wrote:haha pokeman :p
what a reply...

this is considered as spam
haha not pokeman is nice i have diamond

Toad




Posts

: 49


Reputation

: -3


Join date

: 2009-08-24


Age

: 22


Location

: Belgium



by [BtG]Quick on Mon 24 Aug - 13:51
haha pokeman :p
This is spam deleted

_________________
My new sig!
Admin




Posts

: 187


Reputation

: 13


Join date

: 2009-07-02


Location

: At my Pc



what pokeman you have all ? i got only diamond :p
Toad




Posts

: 49


Reputation

: -3


Join date

: 2009-08-24


Age

: 22


Location

: Belgium



[BtG]Quick wrote:what pokeman you have all ? i got only diamond :p
if you mena me? i own everysingle pokemon game except for pokemon diamond(i and my brother both got pearl) pokemon stadium 2 for the n64 and pokemon dx gale of darkness.

---
Permissions in this forum:
You
cannot
reply to topics in this forum